New Movies
Lydia Corbin, Arts and Entertainment Editor
December 15, 2020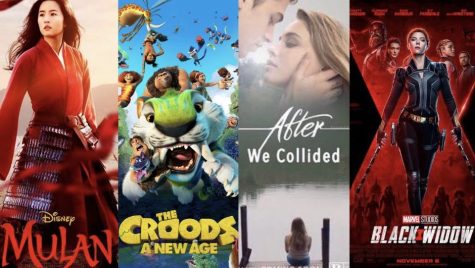 With the state-mandated movie theatre closures that took place due to COVID-19,  the movie industry has created new modifications in order to stay revelant during quarantine. With the lack of revenue due to movie theatre closures and the inability to film new movies, many film production companies have seen a decrease in earnings. This pushed companies in the movie industry to postpone release dates of new movies. For example, Marvel has postponed the release of "Black Widow" numerous times, marking the first time that a Marvel Cinematic Universe film has not been released in a calendar year. Students at South Oldham have said they are most excited for the releases of "Black Widow," "After We Collided," and "The Croods: A New Age." Although it has been disappointing to many, the postponement of movie release dates provides something to look forward to for moviegoers, as most new movies will now be released next year. 
Due to the closures of in-person movie theatres, many movie buffs have begun watching movies on online streaming platforms. Here at South Oldham, 61.6% of students said they enjoy going to watch movies at the theatre, while only 38.4% said they prefer to watch movies at home. Students who were interviewed also said their favorite movie streaming platform was Netflix, with Disney+ as a close second. With the new widespread popularity of online streaming platforms, movie and TV industries have had to adapt to this change by releasing new movies online and increasing the prices of memberships in order to keep a profit throughout the pandemic. For instance, Disney just recently released "Mulan" on Disney+ due to the inability to release it in theatres this past year. But, some movie theatres have been able to host private movie viewing sessions for smaller groups of people in order to maintain social distancing. These are just a few of the adaptations that film industries and movie theatres have had to undergo in order to keep a profit through this difficult time.
Within the modifications that film industries and movie viewers have had to make, it has been a big change and time of learning for all throughout the pandemic. Many new releases will hopefully be released soon for those who prefer watching movies in theatres, while new movies are constantly being released on movie streaming platforms for those who like to stay in. Although it has been a treacherous time for all during the pandemic, quarantine has proven true to be a perfect time to relax at home and view movies that you may have not seen before while staying safe!